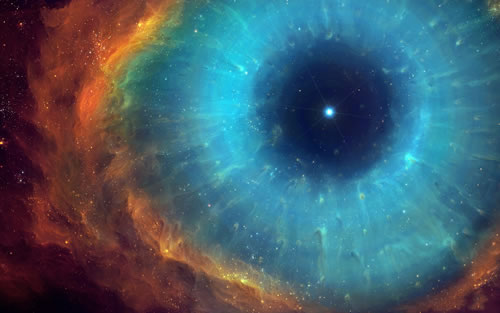 The Pineal Gland, The Eye From GOD

…old men shall dream dreams, and your young men shall see visions -Joe 2:28
Genesis 20:3 -also vision come to all people to the saved and un-saved
Act 16:9, 18:9 - vision
"However, when medical researchers investigating the human pineal gland compared their findings with eye researchers, they were astonished. Both the pineal and the retina make melatonin, an important chemical in our daily rhythm that also affects mood. Your pineal also makes a number of proteins that were thought to be made only by the eye that are necessary for processing light. And like the pineal, the eye also serves as one of the body's time-keeping mechanisms. There are so many similarities between the eye and the pineal in humans ..."1
http://www.creationmoments.com/radio/transcripts/your-invisible-eye 1
AND, you can clean up your pineal gland from GOD, that HE gave you! But this dosen't stop you from hearing from GOD, when He talks with you.
Your pineal also makes a number of proteins that were thought to be made only by the eye that are necessary for processing light.

The pineal gland is a tiny pea-shaped gland located in the geometric center of the brain.
Halides are chemical substances as Fluoride, Chlorine and Bromide. They have effects on the pineal gland, so remove these from your diet.
The diet must be maintained for at least 2 months. The longer you maintain the diet leaving your brain clear from toxins gives you capacity to focus on pineal gland activation.

1. Fluoride - in tooth pastes and tap water another heavy duty poison. It calcifies the pineal tissue and shuts the gland down. (use spring water or other water source). Bath or shower only 2 days out of a week, or use distilled water for bathing.

2. Calcium in food – Pretty much all processed food contains some form of calcium. Many supplements contain these as content fillers also.

3. Mercury - this is really bad for the pineal gland, Mercury tooth fillings, All medical vaccines are also mercury tainted, Avoid eating fish and bottom feeders - as shrimps , tuna bigger the fish the more mercury. Eco light bulbs - if one is smashed mercury vapor is released
Mercury removal use - chlorella algae, wheat grass, spirulinal cilantro herb to be taken daily.

Refine Sugars - candy, regular soda, syrups, table sugar, cakes, cookies, pies, sweet rolls, pastries, fruit drinks -(use unsweetened) and dairy desserts.

Other toxins - artificial sweeteners, refined sugar, squashes, E numbers beginning with 1that is food colorings – red, orange, yellow, and green, deodorants ( use aluminum free or natural), and cleaning chemicals, dental fillings with mercury, air fresheners, mouthwashes ( use saltwater [sea salt] is suffice).

Caffeine, Alcohol and Tobacco –a no, no

Things to help your pineal gland work
Raw Chocolate - Raw cacao is a pineal gland stimulant / detoxifier in high doses because of the high antioxidant content

Citric Acid - Raw lemon, juiced, take 3 tablespoons of citric acid, or 7 organic lemons every day on an empty stomach for three weeks.
Raw Apple Cider VinegarMake - sure it's raw.
Garlic - Garlic this dissolve the calcium. Consume around half a bulb to two bulbs daily. For your breath crush the garlic and soak in raw apple cider vinegar or fresh lemon juice, from above to knock off two for one.
Oregano
Ginger
Root vegatables - A natural antibiotic against the calcium shells in the pineal gland.
Distilled Water - There is research to say that distilled water can help to decalcifying the pineal gland
Organic foods – is the way, if you can't wash them down, good.

Alkaline foods – To restore health, the diet should consist of 80% alkaline forming foods and 20% acid forming foods, this also slow down and may remove cancers in the body.

ALKALIZING VEGETABLES
Alfalfa
Barley Grass
Beet Greens
Beets
Broccoli
Cabbage
Carrot
Cauliflower
Celery
Chard Greens
Chlorella
Collard Greens
Cucumber
Dandelions
Dulce
Edible Flowers
Eggplant
Fermented Veggies
Garlic
Green Beans
Green Peas
Kale
Kohlrabi
Lettuce
Mushrooms
Mustard Greens
Nightshade Veggies
Onions
Parsnips (high glycemic)
Peas
Peppers
Pumpkin
Radishes
Rutabaga
Sea Veggies
Spinach, green
Spirulina – removes mercury from gland
Sprouts
Sweet Potatoes
Tomatoes
Watercress
Wheat Grass- removes mercury form gland
Wild Greens
ALKALIZING ORIENTAL VEGETABLES
Daikon
Dandelion Root
Kombu
Maitake
Nori
Reishi
Shitake
Umeboshi
Wakame
ALKALIZING FRUITS
Apple
Apricot
Avocado
Banana (high glycemic)
Berries
Blackberries
Cantaloupe
Cherries, sour
Coconut, fresh
Currants
Dates, dried
Figs, dried
Grapes
Grapefruit
Honeydew Melon
Lemon
Lime
Muskmelons
Nectarine
Orange
Peach
Pear
Pineapple
Raisins
Raspberries
Rhubarb
Strawberries
Tangerine
Tomato
Tropical Fruits
Umeboshi Plums
Watermelon
ALKALIZING PROTEIN
Almonds
Chestnuts
Millet
Tempeh (fermented)
Tofu (fermented)
Whey Protein Powder
ALKALIZING SWEETENERS
Stevia
ALKALIZING SPICES & SEASONINGS
Chili Pepper
Cinnamon
Curry
Ginger
Herbs (all)
Miso
Mustard
Sea Salt
Tamari
ALKALIZING OTHER
Alkaline Antioxidant Water
Apple Cider Vinegar
Bee Pollen
Fresh Fruit Juice
Green Juices
Lecithin Granules
Mineral Water
Molasses, blackstrap
Veggie Juices - no added sugar content (unsweeten)
ALKALIZING MINERALS
Cesium: pH 14
Magnesium: pH 9
Potassium: pH 14
Sodium: pH 14

Although it might seem that citrus fruits would have an acidifying effect on the body, the citric acid they contain actually has an alkalinizing effect in the system.
Note that a food's acid or alkaline forming tendency in the body has nothing to do with the actual pH of the food itself. For example, lemons are very acidic, however the end products they produce after digestion and assimilation are very alkaline so, lemons are alkaline forming in the body. Likewise, meat will test alkaline before digestion, but it leaves very acidic residue in the body so, like nearly all animal products, meat is very acid forming.
Do what you can, I know you can't do it all, but doing something is better then doing nothing. I can't list all the things you should know, so you must do your homework and your own research.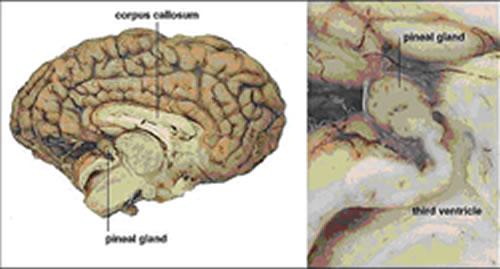 http://www.vivo.colostate.edu/hbooks/pathphys/endocrine/otherendo/pineal.html
http://www.ncbi.nlm.nih.gov/pubmed/8557304
http://www.britannica.com/EBchecked/topic/460967/pineal-gland
http://www.innerbody.com/image_nerv02/nerv64-new.html